Andrew's Competition #24
September 1-3, 2006
Monday, August 14, 2006.
I went to the doctor today to have my collar bone checked out. You see, I had a little spill on my brother's motorcross bike last Friday while on a trip to Washington State. Not a big deal, just flipping head over heels at about 130 mph—ok, it was probably more like 30 mph at that point, but still it was enough to make my race-experienced brother gasp. And enough to result in what is likely a fracture in the area where my right clavicle meets my sternum. I've been having to sleep on my back since Friday—all other positions are much too painful. The doctor said I could get it X-rayed but it wouldn't change the treatment and I'd be out $150. No brainer there. The treatment is time. Likely two to three weeks of pain followed by up to a 3 month full recuperation period. Well, 2-1/2 weeks from now is the Pleasanton Games. Lovely.



Thursday, August 24, 2006.
It's now 8 days until the Games. Tuesday night, trying to get to sleep, I had an epiphany. "I can't compete! I can't reach over to tune my drones! I should notify Margaret Hokeness so she can let someone else take my spot." This lasted a few minutes until I had a second revelation: "I can have someone else tune my drones!" I've been debating . . . do I really want to miss Pleasanton for the first time in 7 years? Should I compete when I'm obviously not going to be 100%? Am I preventing someone else who's healthy from competing by staying the course? Is it worth the experience to do it anyway? Right now, I still can't sleep on my right side and it hurts to lie down and get up. I'm still taking Vicodin for pain at night. Plus I think I fractured a rib too. Mornings are the worst. On the upside, things are getting slowly better. And the damage is primarily on the right (non-bag) side, so that's a big plus. It's still uncomfortable to breathe deeply though. But I have a week yet. My instructor, Jay Salter, said he'd warm up my pipes, if necessary. Sounds like he's coming. He'll have two students in piobaireachd on Friday and four in events on Saturday.
Tuesday, August 29, 2006.
Three days and counting. Played the pipes for the first time today since the family gathering after my grandfather's funeral on August 4th—3-1/2 weeks. I guess I didn't mention that. My dad's dad, John Joseph Lenz, died around 5 a.m. on August 2 at the age of 98. The night before, he had all of his four children around him and he had raised and waved his hand with a smile. I'd woken up unusually early August 2nd, around 5 a.m. with a feeling that he had died. My dad called me a few hours later with the news. My grandfather was the one I inherited my engineering aptitude from; he'd designed dams, water treatment facilities and the like. Very bright guy, up until the end too.
Anyway, I digress. My mouthpiece was pretty darn loose today. The threads wouldn't even catch! I played for about five minutes. My right shoulder didn't feel too bad. Pretty tight and slightly uncomfortable, but not too bad.
I had a relaxed but focused lesson with Jay on Sunday. We worked on a number of things, the 2/4 by far got the most attention.
Boy, I am soooo tired. Nicholas and Charlotte are back in school, and so it's an "up early" (around 7 a.m.) schedule these days. Plus work has been a challenge.



Wednesday, August 30, 2006.
We had band practice tonight. All chanter work again, which is good for me. Afterward, we had a pre-competition run-though, with the four of us who were going to compete. It went ok, with the 2/4 needing the most work. Tiny things with the piobaireachd and with the slow march. I got home pretty late.



GAMES DAY
Friday, September 1.
Well, my question as to whether I should have been competing today or not was answered, read on . . .
I got up this morning and had a hard time standing fully upright. My shoulder felt badly cramped. I took a couple Motrin and gradually it more or less went away. I drove down to work for a short time before returning home and then meeting Jay outside of Santa Cruz High School at 11:15 a.m. I drove us to Pleasanton. (There's still some debate as to how a city that gets so hot ended up called something with "Pleasant" in its name, but we won't go there.) We arrived at about quarter after 12, plenty of time before George MacKay was to compete in the Piobaireachd event today at 1:42. I scheduled at 2:22. I was warm, but not as bad as previous years. I ran into Jennifer Febre in the parking lot and told her of my bone woes. She joked, "Well, you'll be easy to beat!" (Jennifer was the WUSPBA Grade IV Aggregate winner last year.)
In the car, Jay asked who the judge was to be for Piobaireachd. I told him I didn't know but that it wouldn't be Rob Boyd as he'd taken himself off the WUSPBA judges list. To my surprise, Rob was sitting at Platform 5 just inside the gate when we arrived!
I ran into the usual group of pipers, Kip Morais and group, Joe Fitch, Bill Adam, Walt Innes, and others—including Casey Young who had introduced himself at the Mt. Tam games. Also Donald Saraceno and his wife from Oregon.
| | |
| --- | --- |
| | Casey Young warms up for his piobaireachd. He was scheduled immediately before George MacKay. |
George MacKay and I warmed up as Jay tweaked things and Mike Lindelsee looked on. Mike LeBoeuf, pipe major of the Irish Pipers of San Francisco, stopped by to say hello.
| | |
| --- | --- |
| | Jay does final tuning on George MacKay. |
George's pipes were giving him some trouble—we later found a serious crack in the middle tenor drone top—but he played reasonably well regardless. We had a forty minute gap before my time.
| | |
| --- | --- |
| | A quick mug for the camera. (Mike was nice enough to snap the photos you see with me in them.) |
Jay and I adjusted the High-G on my chanter and after a last bit of warming up, the four of us headed over for my performance and found a group of "weights guys" spray-painting their throwing area—about 8 feet from the judging table! Poor Rob Boyd had to sit in the overspray. Stinky stuff, but it only took a few minutes and they moved on. Jay tuned me up and was about to continue to tweak them but they sounded pretty good to me and I cut the bag pressure—with hindsight, I probably should have let him do that last bit of tiny adjustment. I walked over to Platform 4.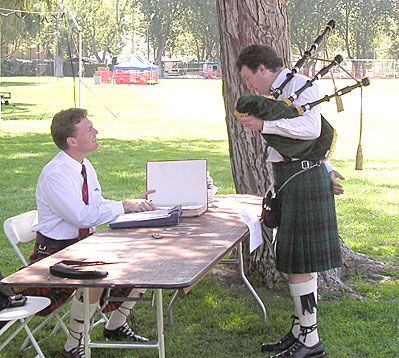 "Battle of Auldearn, Number 1"
I stuck in, played a snippet of a tune, held an "E" and once settled in, I turned to the judge and started the tune.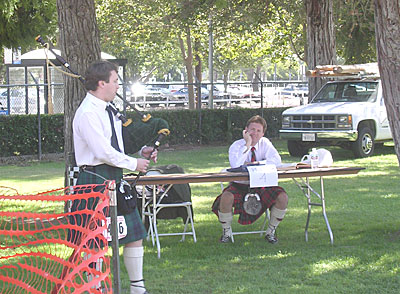 Playing my piobaireachd as Rob Boyd listens intently.
The tune felt good, I made some minor changes to some note timings based on Jay's suggestions. Heading into the last phrase of the ground, I remember thinking "Gee, I'm doing pretty well . . . no, no! Focus on the tune!" And I did. I was happy enough with my performance. I played about as well as I am capable, can't ask for much more than that. Even Jay said I'd played it about the best he'd heard me do it. I realized after that I'd forgotten to tighten my tie again. I need to get a shirt with a bigger collar!
George and I stayed to listen to the next (and last) piper play. After that we all hung around the picnic tables and listened to George and Mike play a bit. It wouldn't be all that long before the results would be up. On our way to the registration area, Rob Boyd—heading out quickly—with a smile said "Congratulations!" "I guess that means something good," I offered back also smiling. I wasn't about to hope for a 1st, but a medal would be great. I stopped Rob as he walked on and asked why he was judging. Turns out that Bill Merriman needed a judge to fill in at the last minute and called Rob and Rob was kind enough to be willing. Mystery solved. I picked up my score sheet. First place! It always takes time for this to sink in, but I was happy. The elusive Pleasanton piobaireachd medal . . . finally! Margaret Hokeness said they wouldn't have medals until tomorrow.
A group of pipers from the Los Gatos Police Pipe Band, including Wes Weber, were laughing, yelling over, "Congratulations! Now get out! Move up to Grade III!"


My Piobaireachd Adjudication Sheet:
(This was an older designed sheet used by the Caledonian Club.)
Place: [blank], Contest: GR IV, Date: 9/1/06, Competitor's No: 406
Competitor's Name: Andrew Lenz, Judge's Name: Boyd,
Name of Tune: Battle of Auldearn #1

Comments:
Drones close at start but drifted noticeably by end of performance.

Bright chanter.
Good chanter/drone balance.
Expression: nice.
Music flowing—good phrasing but watch some "surging" near phrase endings.
Good, clean fingers.
Very good tune.
Score: 68.
Placing: 1
Adjudicator's Signature: <Robert Boyd>



It's interesting to note that WUSPBA has officially eliminated a point score though it's still on the Pleasanton sheets. Rob dutifully entered scores and they ran right down the line as far as I could tell, the 4th place person was 4 points off of my 68, for instance.
Jay had a student to teach so we headed out back to Santa Cruz. Traffic was kind of crummy, but it was a Friday afternoon on Labor Day weekend, so it was expected. I took a couple of Tylenol then went to work for a little bit, played on the pipes a bit then headed home. On the BobDunsire.com forums, I posted a message in reply to someone joking about me adding a page to my site on "How to compete and win with a fractured chest bones" saying that I did indeed win the piobaireachd, but "If any event will show my lack of recent playing time, it'll be the 2/4 March tomorrow." It'll be a full day.





GAMES DAY #2
Saturday, September 2.
I am such a nice guy. I didn't have to play until 9:40 a.m. but what do I do? I get up at 5:45 (completely dark outside) so I can be at the games to support Mike Lindelsee and Paul Llewellyn at 8 a.m. I could have slept in another hour at least, but noooooo. Jay arrived at my house at 6:40 and we drove up once again to Pleasanton with a couple of Motrin in my system. I'd only woken up once, about 3:30 a.m., so I was only half zombie. (At least my shoulder, etc. didn't ache quite as much this morning.) We were there in about an hour, but Mike was nowhere to be seen! Mike had shown up at the main gate and they wouldn't allow him in as the games hadn't opened yet. He tried several entrances but was denied. Eventually, he found an understanding security guard who let him and his son in.
| | |
| --- | --- |
| | Mike Lindelsee warming up as one of the first competitors of the day. |
While things were gearing up and Jay was taking care of Mike, I went over and introduced myself to Ken Eller at Platform 6. Ken Eller, fondly referred to as "The Captain" is a piping legend, was a long time pipe major of the Clan MacFarland Pipe Band in Canada and now, while retired, travels quite a bit judging and teaching at workshops. Ken recognized me from my duties as a moderator at BobDunsire.com and even remembered judging me two years ago even though at the time I didn't get the chance to really talk to him outside of the official judge/competitor exchange. We chatted for a bit about computer history then made way for Paul to kick off the 2/4 March (Leet B) event.
| | |
| --- | --- |
| | Ken Eller judging a 2/4 competitor early on. |
Being that my 2/4 wasn't scheduled until 9:40 a.m., I had plenty of time. Jay helped George and I get prepare. George was having continued problems with his pipes being unstable—no huge surprise with a cracked drone! Mike allowed George to use his Naill pipes. A Bob Dunsire forum member named Jim . . . Jim something . . . introduced himself. Becky Wiens—who introduced herself a couple years ago at Pleasanton—came by at the same time and told me she was finally competing for the first time today and how helpful my site was to her.
It was time for my 2/4 event.
Jay does the final tuning of my drones for the 2/4 March with Ken Eller.
(Unseen about eight feet to the left is a snare drummer.)
"You want to play 'It's a Long Way to the Top If You Want to Rock 'N' Roll'? And you are sure that's in the Scots Guards Volume 2?"

(Notice his jacket is now gone. It's warming up!)
After I told Ken I was going to play The Balmoral Highlanders, he told me that as the last competitor, I could take as much time as I wanted to get ready. I didn't push it though, there's only so much time you need.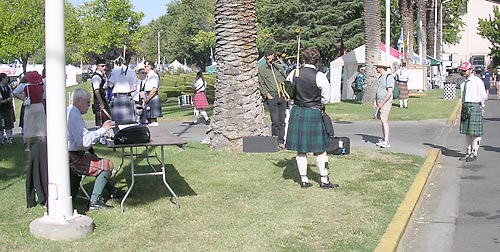 From the right, the man in the red cap is Paul Llewellyn, the man in the straw hat and backpack is Eric Mrozek, myself settling the pipes, Jay leaning against the palm tree and the Captain peering into his judge's clipbox.
After playing some bits of a tune, I turned and started my march.
| | |
| --- | --- |
| | "Going 75 in a 25 mph zone. Lane change without signal. Expired plates. Broken tail light. Dead sheep odor." |
My 2/4 started out ok, and while I was trying to keep the tempo down and carefully focus on playing the embellishments very cleanly, the tempo sped up and the embellishments deteriorated as the tune progressed. I'm sure it didn't sound terrible, it garnered some decent applause from bystanders, but absolutely not in the running at a venue like Pleasanton.
There wasn't much time to muse, I was to play my Slow March for Adrian Melvin at Platform 8 at 9:50. As the morning wore on, things got delayed at Platform 5, the location of George's 2/4 March, so the times for our events were converging. While he did tune up my drones, Jay was attending to George at the time of my Slow March.
"It's spelled 'W-I-N-N-E-R. Ok, I'm going to play anyway otherwise it'll look suspicious."

(No, I really didn't say that!)

I'd never met Adrian Melvin before, though I'd heard that he'd been recommending my website to beginners. He lives in the midwest and I'd forgotten his origins otherwise I wouldn't have been surprised by his Scottish accent!
| | |
| --- | --- |
| | Chugging away on my slow march, The Braes of Lochiel. |
My slow march went pretty well, I felt good about the expression of the tune. The biggest thing was a transition from High-A to High-G and my thumb missed the hole enough to cause a slur until I corrected it. Drat! I wasn't sure how badly that was going to affect things. I had a similar magnitude error last year and ended up taking second, but I couldn't count on anything.
Again, as the last competitor, I didn't have to wait long for results. I checked in at the registration booth a little while later. I was watching a man write out the results. "Slow March 15B 21+, 1st - Lloyd Christiansen, 2nd - Andrew Lenz, 3rd . . . " I'd managed to eke out a 2nd place in the Slow March—"Well, I'll be coming back tomorrow!" Lloyd Christiansen had also taken a 2nd in the 2/4 March. As for me, no surprise, I hadn't placed in the 2/4 March.


My 2/4 March Adjudication Sheet:

Games: Cali Club, Date: 9/2/06, Event: 14B 2/4
Competitor: Andrew Lenz, WUSPBA Number: 406, Grade: IV,
Tune(s): The Balmoral Highlanders

Comments:
1. Excellent drone sound — resonant
2. Watch phrasing in 1st so that
A E C E matches G D B D

3. 2nd - well phrased — watch technique
4. Again in 3rd part, make sure that
the 2nd phrase (Bars 2/4) match
the 1st phrase (Bars 1, 2)
5. C to B grip technique in 4th
6. Work on Part 4. Technique articulation.
7. Tempo very good.
Overall —> work on phrasing consistency to take
you to the next level.

Competitor's Performance Level:
[Blank]
Place Awarded: n/a
Judge's Signature: <Ken Eller>


No surprises there. Always nice to get good comments on the drones, of course!



My Slow March Adjudication Sheet:

Games: Cali Club, Date: 9/2/06, Event: 15B S.M.
Competitor: Andrew Lenz, WUSPBA Number: 406, Grade: IV,
Tune(s): Braes of Lochiel

Comments:
drones drifting a little from start
Good musical presentation
Missed a couple of gracenotes.
2nd Pt. minor choke
Strong phrasing & good music.
dot/cut coming through well.
Work on tuning your drones better
Good music, just work on better sound.
Well done!
[From the margin:]
High A good sound
Chanter good overall
drones need to be locked in from start.

Competitor's Performance Level:
[X] Level 2: The competitor has demonstrated proficiency likely to be in the upper quartile of this grade level.
Place Awarded: 2
Judge's Signature: <Adrian Melvin>


Of course, I couldn't do much about tuning the drones—not that I'm exactly infallible even if I was healthy. I'm not too sure about the missed gracenotes, this might be a case of the judge expecting a different setting again.




| | |
| --- | --- |
| | Hey! Two placings at Pleasanton. That's new! |
Jay had a wedding gig back in Santa Cruz, so we couldn't stay to find out when the playoff times would be. And the medals still weren't available yet—but I'd be back the next day. I convinced Jay to stay just long enough to try and find the Peel Regional Pipe Band tent, but no luck. Michelle Curtis, a Peel tenor drummer and regular at Bob Dunsire's forums, was bringing me some old Piper & Drummer magazines, but I had to find her to get them! It'd have to be tomorrow. We were back in Santa Cruz by noon and I spent time with my family the rest of the day.
I made a call to George MacKay who said the playoff times weren't posted by the time he left around 1 p.m. Paul Llewellyn returned my message to him, saying the playoff times still weren't posted by the time he left at 4 p.m. Well, the sign on the registration booth said they would begin at 8:30 a.m., but it could be that I wouldn't play until 10 or 11. Drat. I called Jay and told him that I calculated, based on my standing in my leet, that the earliest I'd play would be 9 a.m. and that'd we'd leave Santa Cruz by 7:30 if he wanted to go. He called back and said that he was sure I'd be able to find someone to tune me up. He had graduate school homework to do for which he'd already lost time devoted to the piping competition—but he was hoping to come for the band competition around noon. I should have gotten another competitor's cell number to call—next year!
Now, I'm always a planner and know I can find someone to tune me at a games, but it's that sliver of a possible problem that makes me ever so anxious. Just take a deep breath . . .
GAMES DAY #3
Sunday, September 3.
I awoke at 6 a.m., knowing I had to get up in about 40 minutes. I did my best to get back to sleep, but spent the time just planning out the day. One thing I know, stretching my arms wide is something I'll continue to avoid for a while! I was on the road and into Pleasanton by 8:25 a.m. Morning fog again, which was good. I ran into Don Saraceno and his wife, Becky. They said the playoff times had been just posted that morning and that I was play right after Becky—that eliminated Don as helper for tuning drones. I checked the times and I was to be up at 9:54 with "Berta" judging—that would be Colin Berta who also judged at Mt. Tam. I saw that Jennifer Febre was up for the Grade III playoffs shortly after me, so that eliminated a second possibility.
I ran into Drew Barker and suggested that maybe I could get him to tune me up when my time came. I also asked Kip Morais who would be done playing about 15 minutes before I was to play and he agreed to help as long as things were on schedule and not running late.
I ran into Jennifer and talked to her about judges maybe expecting a different setting of a particular tune. She said she'd had similar experiences, and mentioned a march in particular and that she ended up changing the setting she played as a result. "You should give the judge a copy of the music." At this point, as much as I was tempted, it was too late to go to my car and grab a copy. (Jay was always one to say that the judge shouldn't need the music.)
I found a place to warm up, spending most of the time with my bass drone corked up as I can't reach up to knock it out. I can knock out the middle tenor if in a pinch, that's tolerably painful—though obviously I prefer not to!
As time drew close, I found Kip about to do his 2/4 March playoff performance. There was an empty portable chair and Frank Conley invited me to join him. Kip tuned up nicely and began playing his tune . . . in the second part he had a little hiccup—drat. He explained that he'd forgotten if he'd repeated the part or not and as a result made the error. At least he was taking home the Grade III 1st Place Piobaireachd medal.
I asked Kip if he would mind tuning me up and he graciously agreed. He followed me back to my tuning spot and locked in my drones. I asked him to check with the steward for me to see if the event was running on time. I found him about five minutes later chatting with Drew Barker, so I garnered both to assist in my final tuning.
I walked up to Colin, told him my tune and made a point to explain that it was the Donald MacLeod version and that it might be a little different. (Technically, there's one bar in the last line that was changed by my instructor to simply repeat corresponding bar in the first part, but other than that, it's straight from the book.)
I played the tune and I have to admit I was a bit more nervous for this performance. While playing I noticed my low hand shaking a bit when raised from the chanter. (Later, Becky Saraceno said I looked very relaxed—what you see is not always what you get!) Playing the second part, I couldn't remember if I'd done the repeat or not. I decided to play it again as I had the feeling that the tune had not taken enough time to play—I made the right decision! There were perhaps a couple minor fingering issues, but nothing that would be easily noticeable. Not perfect, but very respectable. We'd have to see how that would go over. The bystanding pipers seemed to think that it sounded quite nice.
| | |
| --- | --- |
| | Colin Berta wraps up his Slow March playoff judging duties. |
Since I was positioned more or less in the middle of the pack of the 15 playoff pipers, it'd be a while before results would be posted. I went visiting for a bit, watched a tenor drum competition before heading to my car and swapping my heavy case for a backpack to carry my pipes in. That pack would stay on my left shoulder for the rest of the afternoon. The weather was not so hot this year. Still pretty warm, but not scorching.
Adrian Melvin and Eric Mrozek.

Eric had scratched for his Grade III events but opted to help as a steward for those events instead.

Adrian was pretty funny: "So your day went pretty well yesterday—except for that Slow March judge . . ."
I checked in at the registration tent. *Sigh* No playoff medal. The next question was 'just how badly did I do?' I saw the stack of score sheets on the counter and slid the top few askew and spotted my score sheet. 4th place. Ok, well if you can't medal in the playoffs, the next best thing is 4th!


My Slow March Adjudication Sheet:
Games: Cali Club, Date: 9-3-06, Event: Slow March
Competitor: Andrew Lenz, WUSPBA Number: [blank], Grade: IV,
Tune(s): Braes of Lochiel

Comments:
- Nice tune, good setting
- Tenors not lock in w/each other
bass was good
- Top hand (F,G,A) seemed on the verge of
sharp, relative to the bottom hand. I think
if the tenors were locked in, the pitch
of those notes wouldn't have been a
concern.
- One slight chirp down to Low G, coming
from a large 'G' gracenote down
Overall: Nice tune. Work to lock in drones.
Competitor's Performance Level:
[X] Level 3: The competitor has demonstrated proficiency generally recognized to be at this grade level.
Place Awarded: 4
Judge's Signature: <Colin Berta>


I think judges are still figuring out this new "Performance Level" thing. You might think that finishing 4th out of 60-70 total pipers might be at least above average for the grade!
I was collecting my two medals from Margaret Hokeness when she asked again about my placings.

First place, Piobaireachd, Grade IV,
Pleasanton Games 2006

Second place, Slow March, Grade IV 21+, Leet B,
Pleasanton Games 2006

She said that based my Friday and Saturday performances, I'd won the Winston Churchill Memorial Trophy for 21+ individual piping. I pointed out that Lloyd Christiansen had taken a leet 1st and 2nd also, but she said that the 1st in piobaireachd trumps a 1st in another event. (I had to make sure! I ended up placing higher than Lloyd in the slow march playoff, so my conscience is clear.) She filled out a form for me to take to the Trophy Counter under the grandstands. I called Jay and gave him the news—he seemed happy. He said he couldn't sacrifice the time to get up for the band competitions, unfortunately. After some wandering and asking around, I eventually found the trophy counter. I was to get a plaque and could take the trophy home if I returned it next year.
Man. Where the H3// am I supposed to keep that? It's about two feet high! My wife Kristen would kill me if I brought that home! They're going to have to keep that one.

I was reading the names on the front of the trophy and I recognized one. Jennifer Febre won it two years ago!
I told them I'd have to pass on the trophy. They said it'd take a few hours to engrave the "keeper plaque"—so I would have my run of the games for a while. Ironically, I saw Lloyd near the counter, and explained to him that he'd come "this close" to winning the trophy. He thinks that the playoffs should still maintain the separate age categories, e.g., the 21+ A and B leets would playoff against each other for a 21+ champion for that event.
| | |
| --- | --- |
| | Ken Eller took my photo for his website. I said, "Well, if we're taking pictures, I want one of us together!" |
I found Peel Regional in the band area and was immediately spotted by Michelle Curtis. She presented me with a bag of those P&D magazines. We chatted briefly before she was called away to prepare for the Grade I band competition.
Frank Conley, Kip Morais' instructor.
Always a source of amusing stories.

Frank was trying to convince me to take the trophy home to prove that I indeed win it! "Anyone can take a photo of it . . ." Such a kidder!
Wandering about I bumped into Jonathan Adams who moved to the East Coast a couple years ago and started J.F.Adams Highland Bagpipes & Supplies. He's the sole retailer for Colin Kyo Bagpipes. I picked up a Colin Kyo African Blackwood chanter as well as their poly chanter from him. There's a bit of a buzz going on with those chanters. He introduced me to Murray Huggins, the maker.
I headed over and picked up my plaque. She wanted to make sure that I knew that my name would get engraved on the trophy too. I have to admit that it's cool to think that my name will be on it as long at the trophy is around!
Ok, at 8" tall, this I can handle. It reads:

WINSTON CHURCHILL MEMORIAL
INDIVIDUAL PIPING
GRADE IV - 21 & OVER
ANDREW T. LENZ, JR.

According to the program, the award donor is the British American Club of San Francisco. (Thanks go to them!)
I figured I could make enough time to at least catch the first performance of the Grade I bands, which happened to be Alberta Caledonia. I watched with Drew Barker and his dad. It was an impressive performance which, as it turned out, gave them the win for the day.
I headed home around 3:30, as we had friends coming over for my daughter Charlotte's 8th birthday. The drive was clear sailing. When I got home to a full house, I gave the plaque to Charlotte. "Oooo, Daddy, that's the second one of those!"



Monday, September 4, Labor Day.
Being that it's a holiday, I could have slept in a long as I wanted—I woke up at 6:22 a.m. *sigh* Nothing like getting up really early a couple days in a row to set your body clock.
Now, Grade III is pretty much a done deal. I don't want to sit in Grade IV and sandbag—that's not fair to the new pipers. But there are a number of things that scare me. Primarily, my 2/4 March is not particularly strong, in fact, it needs a lot of work. And I still have never marched to a 2/4 in competition. The Loch Lomond Games is coming up in a month. Maybe I can get my tail in gear (within the limits of my health) and hammer down my 2/4 in time to put on a medal performance. I'd feel much more comfortable going into Grade III with a 1st or 2nd in the 2/4 next month.
Yipe. Grade III?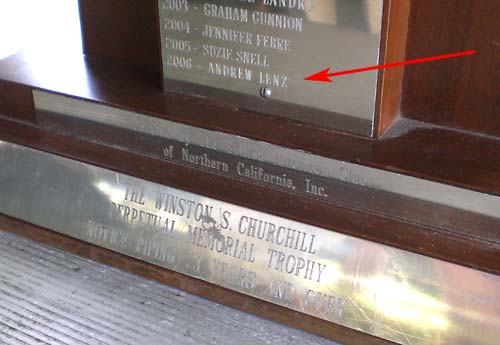 Later note: This photo was provided later by Mark Stanfield who won this trophy in 2007. There! Proof for Frank!