Andrew's Tips: Top North American Pipe Bands
By Andrew T. Lenz, Jr., Santa Cruz, California, ©2009-2010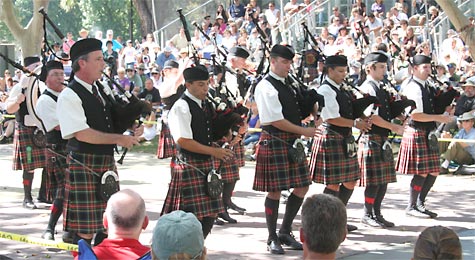 Prince Charles Pipe Band (Grade II, 2009) of WUSPBA


Below is a list of Grade I and Grade II pipe bands in North America—currently, these bands are only found in the United States and Canada.


North American piping associations with links to their band listing (if available):
Alberta Society of Pipers and Drummers (ASPD) No band listing page on their site, see results.
Atlantic Canada Pipe Band Association (ACPBA)
British Columbia Pipers' Association (BC Pipers) Listing may be out of date.
Eastern United States Pipe Band Association (EUSPBA) PDF file
Mid-West Pipe Band Association (MWPBA)
Prairie Pipe Band Association of Manitoba (PPBAM)
Pipers' & Pipe Band Society of Ontario (PPBSO) Band listing linked at left of PPBSO page.
Saskatchewan Pipe Band Association (SPBA)
Southern United States Pipe Band Association (SUSPBA) Click on "member bands" at left. Listing is not always current.
Western United States Pipe Band Association (WUSPBA)
Please note that not all associations maintain their band lists with the same degree of vigilance! The list below was compiled after talking with bnad members of the various associations since some lists were either unavailable, unmaintained, or not updated to reflect new band gradings.



Grade I: 11 bands



Grade II: 18 bands

The above list is believed to be accurate for the 2010 competition season.

Notes:
St. Thomas Alumni Pipe Band is a Grade II band but the proper association has not been determined. (Either EUSPBA or PPBSO according to their lead drummer.)
Gaelic College Pipe Band (ACPBA, Grade 1) has not been active for some time.
Midlothian Scottish (MWPBA, Grade 2) dissolved after 2009.
While listed as Grade 2 on SUSPBA.org, City of Dunedin Pipe Band is no longer Grade 2.
Dartmouth & District Pipe Band (ACPBA) combined G2 and G4 into a Grade 3 band.
Niagara Regional Police PB just has a Grade 4 band. (Many of their members joined the Penatangore PB.)
Niagara Regional Police Pipe Band (Grade II) disbanded in January 2010, leaving only their Grade IV band.
Great Lakes Pipe Band was formed in 2009 as a result of the Winsor Police Pipe Band folding. The GLPB competed and won in Grade III. 2010 placement is unknown at the time of this writing.
Burnett's & Struth Pipe Band petitioned the PPBSO to upgrade them to grade II for 2010 and it was granted.
If you have comments or suggestions about this page, please contact me.
This page last updated Monday, May 31, 2010.
Page first created in November 29, 2009.